Description
Edit
A version of the popular game, Tetris for the O2.
Tetris is now available for download. At this point it's only available in Korean but the controls are easy to figure out. To download this game click on this
link. To download scroll down the page until you see in English "tetris" and right next to it download. It's located a bit below the big blue bar with the Smiley face next to it.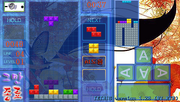 Ad blocker interference detected!
Wikia is a free-to-use site that makes money from advertising. We have a modified experience for viewers using ad blockers

Wikia is not accessible if you've made further modifications. Remove the custom ad blocker rule(s) and the page will load as expected.