Should we change the name of the wiki?
Edit
I was just wondering if we should change it to cowon o2 development wiki because all the articles we have so far are only relevant to the o2. Or do you hope to expand this wiki to eventually have support for other PMP's? Cmillermo 16:39, 2 January 2009 (UTC)
Either way, but I figure that cowon may one day release another PMP with an SDK if things go well with the O2, who knows. Arcanos 17:37, 2 January 2009 (UTC)
Alright, sounds good!Cmillermo 17:48, 2 January 2009 (UTC)
Should we put the logo on top of the welcome?
Edit
I think it would be a good idea to put the logo (this thing)--->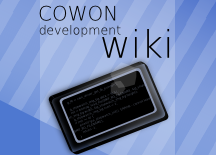 right on top of where it says on the "home" page "Welcome to the Cowon Development Wiki". Do you think this is a good idea? Or should we just leave it as is?CMillermo 03:27, 4 January 2009 (UTC)
Ad blocker interference detected!
Wikia is a free-to-use site that makes money from advertising. We have a modified experience for viewers using ad blockers

Wikia is not accessible if you've made further modifications. Remove the custom ad blocker rule(s) and the page will load as expected.