Description
Edit
A version of Icopter or the Helicopter Game for the O2. The object of this game is too see how far your helicopter can go without hitting any of the obstacles. For the helicopter to go higher you touch the screen and when you let go the helicopter drops.
Importance
Edit
This game is not of huge importance, it would just be a fun game for o2 users.
Implementation Details
Edit
The developer would have to figure out how to add gravity/velocity to the game. The obstacles are randomly generated so the developer would have to figure out how to do this too.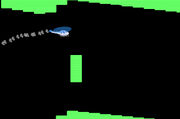 Ad blocker interference detected!
Wikia is a free-to-use site that makes money from advertising. We have a modified experience for viewers using ad blockers

Wikia is not accessible if you've made further modifications. Remove the custom ad blocker rule(s) and the page will load as expected.